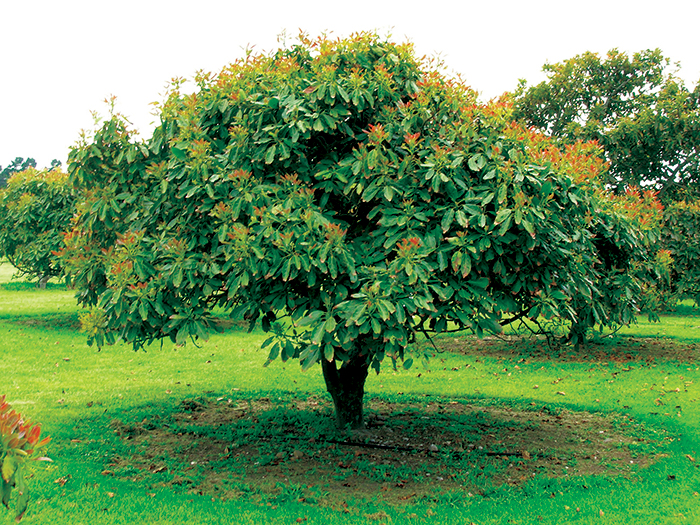 Trunk Drenching
PHYTOPHTHORA CONTROL IN YOUNG AVOCADOS
The application of potassium phosphonate through drenching can help prevent the growth of phytophthora in avocado trees. This solution, mixed with water, should be applied every two months over the entire canopy and root zone of the tree, using a soft spray to wet the leaves, trunk, and root zone thoroughly. This method of application has been found to be very effective in preventing phytophthora-related failure in avocado replanting, especially when used from the planting stage up until the trees have grown large enough for injection. The solution should be made with 50 ml of 40% concentrate potassium phosphonate and 20 liters of water, with a pH of 7.2.
Images below are of a hass planted in our backyard March 00, at time it had literally no roots, all were black with phytophthora and only 6 leaves, we did it as a challenge and I think we won.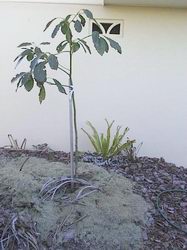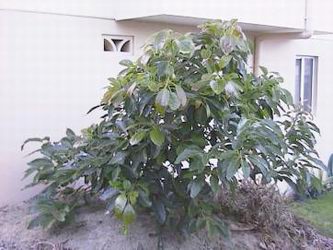 Warning — Read the pesticide manufacturers label before using with this injector system. It is an offence to use product for a purpose or in a manor other than as stated on that label, unless there is in place a current 24/c permit for the purpose proposed.
UNDER NO CIRCUMSTANCE THIS OR ANY SIDEWINDER INJECTORS TO BE USED WITH UNBUFFERED PHOSPHOROUS OR PHOSPHORIC ACID PRODUCTS SUCH AS 0-60-0 AS IT COULD CAUSE SUDDEN FAILURE OF SOME INJECTOR PARTS AND PLACE THE OPERATOR AT RISK OF SERIOUS INJURY.