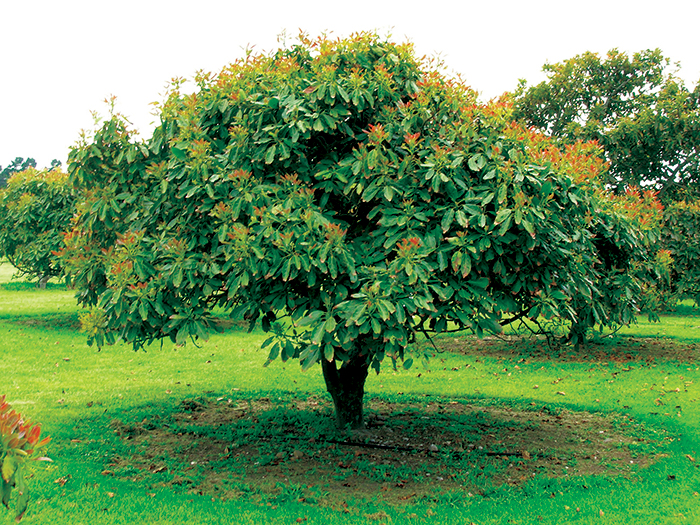 Trunk Drenching
PHYTOPHTHORA CONTROL IN YOUNG AVOCADOS
Successful replanting of avocados in phytophthora infected orchards can be difficult at best and at worst up to a 100 % failure rate.
At Sidewinder we have found the following very successful when used on trees from planting stage up till their butts are large enough to inject.
DRENCHING – ONCE EVERY TWO MONTHS
Each plant drenched over whole canopy and rot zone  with 20 litres of water mixed with 50ml. of 40 % concentrate pH. 7.2 potassium phosphonate.
Solutions should be applied via a "soft" spray, wetting all leaves and trunk and the root zone.
Images below are of a hass planted in our backyard March 00, at time it had literally no roots, all were black with phytophthora and only 6 leaves, we did it as a challenge and I think we won.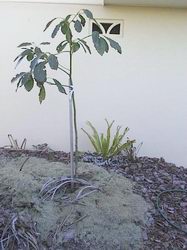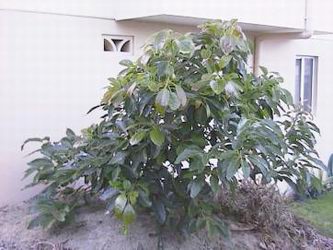 Warning — Read the pesticide manufacturers label before using with this injector system. It is an offence to use product for a purpose or in a manor other than as stated on that label, unless there is in place a current 24/c permit for the purpose proposed.
UNDER NO CIRCUMSTANCE THIS OR ANY SIDEWINDER INJECTORS TO BE USED WITH UNBUFFERED PHOSPHOROUS OR PHOSPHORIC ACID PRODUCTS SUCH AS 0-60-0 AS IT COULD CAUSE SUDDEN FAILURE OF SOME INJECTOR PARTS AND PLACE THE OPERATOR AT RISK OF SERIOUS INJURY.