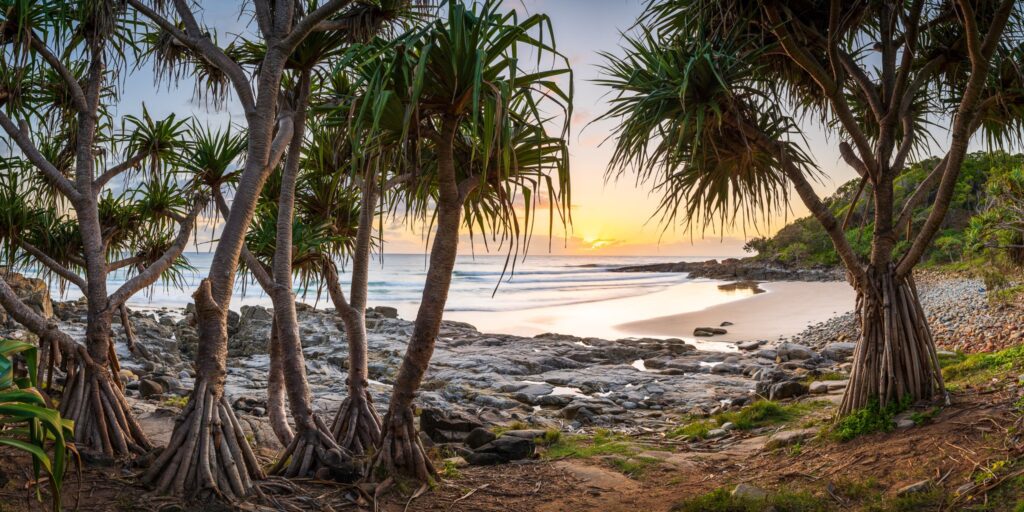 Jemella in Pandanus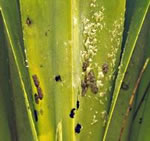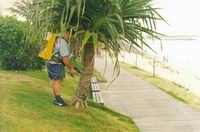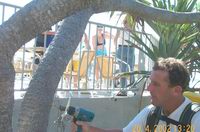 Background
By the mid 1990's a small fatid Jammella australiae, a native of Northern Australia was devestating Pandanus Palms along the Southern Coast of Queensland.
Surveys in Noosa National Park of 3200 palms showed a high correlation between fatid numbers and tree health with up to 500,000 on a single tree. By 1996 25% of palms where dead and 66% in poor health, worst of all, no plants under seven years old could be found.
Chemical pesticide trials with Bayer Imidacloprid Insecticide directly injected into branches with a Sidewinder Injector where initiated and under the supervision of Qld. DPI
As can be seen for the accompanying images the high profile public places where most of the palms are located precludes the use of a spray or ground injection delivery systems. Some palms are growing from fissures in rocky shore lines and cliff faces.
Bayer Imidacloprid proved very effective, trial trees showed no sign of reinfestation after 16 months while surrounding control trees had all died.
The trial proved that the insecticide could be applied in locations with very high environmental sensitivity, with total safety acceptance by the general public.
All trees in the Noosa National Park were injected and the process has become standard treatment in private and public trees along that part of the Australian Coast.
Acknowledgment.
Material used in this article taken from report prepared by Dr. Dan Smith Senior Entomologist QDPI and N. Smith Entomologist QDEnv.
When injecting trees in public places it is good practice to seal the holes with the Sidewinder plastic plugs.
Warning — Read the pesticide manufacturers label before using with this injector system. It is an offence to use product for a purpose or in a manor other than as stated on that label, unless there is in place a current 24/c permit for the purpose proposed.
UNDER NO CIRCUMSTANCE THIS OR ANY SIDEWINDER INJECTORS TO BE USED WITH UNBUFFERED PHOSPHOROUS OR PHOSPHORIC ACID PRODUCTS SUCH AS 0-60-0 AS IT COULD CAUSE SUDDEN FAILURE OF SOME INJECTOR PARTS AND PLACE THE OPERATOR AT RISK OF SERIOUS INJURY.