 Banana Backpack Spear Injector
Banana Backpack Spear Injector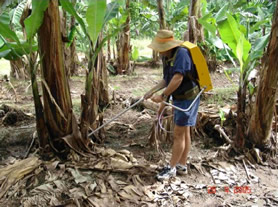 COMFORTABLE OPERATION
Arguably the most comfortable banana injector available, it's secret being the fact that it is arm – not hand operated.
Upper arm muscles are many times more powerful than fingers, pump operation via an ergonomically designed long handle makes for effortless and accurate dosing.
Lightweight aluminium spear with stainless steel tip penetrates easily and eliminates the need for repetitive body bending further adding operator productiveness.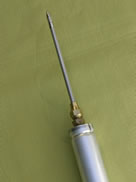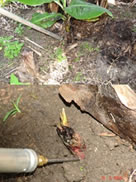 DESUCKERING & BUTT INJECTION
From the smallest sucker to the largest butt the Sidewinder can deliver from 2 to 20 mls. per swing of the handle.
Materials such as kerosene, roundup and most insecticides no problems, injected with an accuracy and reliability other manufacturers only dream about.
STANDARD FEATURES
WIDE WEBBING
50 mm wide webbing with quick connect and release military style clips insure comfortable operation all day long. Fully adjustable to fit all body sizes.
5 L CHEMICAL CONTAINER
Container, pump and hoses protected inside a strong lightweight fibreglass safety shell. Five litre capacity chemical container, sealed cap and on-off air bleed valve reduce the risk of spillage if unit placed flat on ground.
HIGH PRESSURE DOUBLE HOSE ASSEMBLY
Hose within a hose for added safety, chemical hose burst pressure rating 2500 psi. On-Off positive seal stop valve allow tool to be hydraulically isolated when not in use.
1 METRE LONG SPEAR
Standard aluminium spear length 1.00 metre, other lengths optional. Handle easily detachable for storage.
THREE PUMPS IN ONE ASSEMBLY
By simply removing the detachable handle, hex lock nut, handle stub and reconnecting the pump actuating lever onto the appropriate pivot the maximum dose per operation of the handle can be varied from
6.6 to 13.3 or even 20mls.
Ideal for bell as well as butt and sucker injection.
OPTIONAL ADDITIONAL COST FEATURES
BELL INJECTION SPEAR AND LEAF TRIMMING BLADE
Can be purchased separately or as a complete spear assembly.
Spear point reinforced by blade which in turn is made from a single piece of folded stainless steel.
OPTIONAL BELL SPEAR LENGTHS
250 mm, 750 mm, 1.25 m, 1.50 m & 2.00 m.
Image shows Ladyfinger Bananas being bell injected.
QUICK RELEASE COUPLINGS
These high pressure hydraulic type seal sealing couples allow complete tools to be changed over instantly.
EXTRA COMFORT PADDING
Heavy duty padded shoulder strapping and waist bands as used on our high pressure tree injecting backpacks can be supplied, these also feature an additional cross chest strap and quick release clip to stop shoulder straps spreading.
DUAL 1 LITRE CHEMICAL CONTAINERS
Two containers nestled in tight fitting foam retainer.
SOIL INJECTOR
Consisting of a one metre long spear tube, heavy duty spear point and a foot operating stirrup allows easy and fast injection of pesticides for control of ants etc.
OPTIONAL SPEAR LENGTHS
From high banana butt injection to large Agave or Cactus there is a lightweight Sidewinder aluminium tube spear assembly including,
500 mm, 750 mm
1.00 m (standard)
1.50 m, 2.00 m