Injection Site Sealing plugs
Injection Site Sealing plugs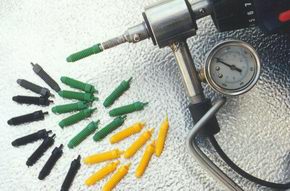 Detractors of the tree injection process often raise the effect of drilling openings in trees, the consequent discharging of plant fluids and the possibility of entry of wood boring insects and pathogenic fungi, bacteria and viruses as well as potential losses of the injected pesticide.
All of these criticisms are overcome with the use of the patented Sidewinder plastic sealing plugs.
Plugs are quickly inserted using the drill/injector the plug thread being the same size screw thread as on the injector nozzle.
Sealing plugs greatly reduce the bleeding from the injection site and speed up the healing process.
Use of the sealing when injecting pesticides in public places is highly recommended and a useful way of reducing the risk of litigation.
Sold in packs of 1000 Please contact SideWinder. sales@treeinjectors.com