Where to Inject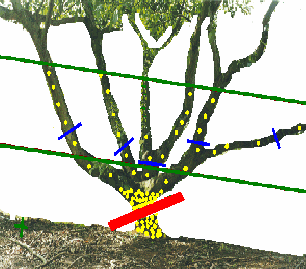 Sidewinder does not recommend continual injection into the lower trunk of the tree regardless of the injection method used, due to the ongoing accumulation of damaged tissue.
When a tree is large enough it should be injected between one and two metres [green lines] above ground level, and preferably beyond the point [ blue lines] where at some future date it will be pruned, thereby removing most od the scarred tissue at that time.
NOTE
Injected phosphorates first travel up to the leaves via the active xylem, (sap wood) before moving down the roots.
Warning — Read the pesticide manufacturers label before using with this injector system. It is an offence to use product for a purpose or in a manor other than as stated on that label, unless there is in place a current 24/c permit for the purpose proposed.
UNDER NO CIRCUMSTANCE THIS OR ANY SIDEWINDER INJECTORS TO BE USED WITH UNBUFFERED PHOSPHOROUS OR PHOSPHORIC ACID PRODUCTS SUCH AS 0-60-0 AS IT COULD CAUSE SUDDEN FAILURE OF SOME INJECTOR PARTS AND PLACE THE OPERATOR AT RISK OF SERIOUS INJURY.