Bug Buster Power Pack Injector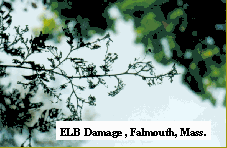 Developed for the North American Forestry and Urban Tree Markets to combat such problems as
Asian Long Horned Beetle ALB
Dutch Elm Disease and Carriers DED
Sudden Oak Death SOD
Psyllids in Eucalypts
Phytophthora Root Rot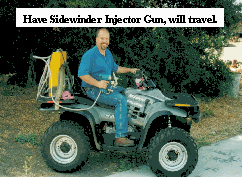 Providing the optimum in operational flexibility this system includes a 33 feet long power / chemical hose assembly and may be either worn on the operators shoulders and powered by an inbuilt sealed battery or attached to and powered from any support vehicle, ATV, tractor, etc with 12 volt electricals.Injector pump is air operated from the systems inbuilt 12 volt air compressor and the dose is remotely operated from a switch on the drill/injector assembly.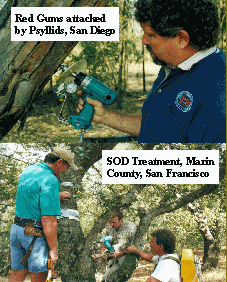 Suitable for use with a wide range of pesticides in the form and container supplied by the manufacturer.
Insecticides including
Imidacloprid
Azadriachtin [Ornazin 3 percent ai.]
Fiprinol
Dimethoate
Phosphonates for Phytophora Control including SOD
Trace Elements and Fertilises Mixes.
Plant Growth Regulators
Herbicides for control of Feral Trees
Standard Features
*Sidewinder Drill/Injector Assembly
*10 ml. Per Operation Dosing Pump
*Inbuilt Air Compressor
*External 12 Volt Power Supply Cable
*Dose Pump Switch on Drill Assembly
*Padded Adjustable Harness
*Easy Injection Pressure Regulator
*Long Power Cable, 32 Feet [10 metres]
*Inbuilt 7.0 Amp Sealed Battery
*2 x 1 litre Inbuilt Chemical Container
*240v ac or 120v ac x 12v dc Battery Charger
*Fibreglass Spill Safety Shell
Optional Features
*5 ml. Per Operation Dosing Pump
*4 Litre External Chemical Container
*Spare Batteries & Wiring Kits
*Variable Volume Dosing Pump
*A range of drill bit sizes and nozzle lengths to suit different xylem densities and phloem thicknesses.
Warning — Read the pesticide manufacturers label before using with this injector system. It is an offence to use product for a purpose or in a manor other than as stated on that label, unless there is in place a current 24/c permit for the purpose proposed.
UNDER NO CIRCUMSTANCE THIS OR ANY SIDEWINDER INJECTORS TO BE USED WITH UNBUFFERED PHOSPHOROUS OR PHOSPHORIC ACID PRODUCTS SUCH AS 0-60-0 AS IT COULD CAUSE SUDDEN FAILURE OF SOME INJECTOR PARTS AND PLACE THE OPERATOR AT RISK OF SERIOUS INJURY.