Petrol Motor Driven Battery Charger
CHRISTIE BATTERY CHARGER
Ideal for charging larger batteries as used with Sidewinder Kit Injector Systems.
Developed for use in the harsh Australian Outback equally at home on farm and anywhere where batteries need charging or a 12 volt dc power supply is needed.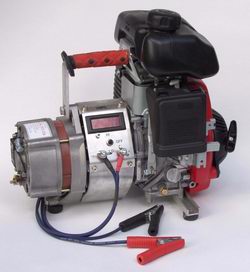 FEATURES
Honda 50 cc OHV 4 stroke motor 1.8 Kw.
Bosch 12 volt 55 amp hour automotive alternator.
Dual voltage setting 14.2 & 15 at the flick of a switch.
Short circuit and overload protected.
Large, bright LED voltage display.
Lead, 3 metres long with alligator clips included.
Light weight complete unit weights only 11 kg.
OTHER APPLICATIONS
Farming and earthmoving machinery, will generally provide enough charge within 5 minutes to allow most machines to be started.
Clamping boating and touring, can run fridges and water pumps, just about any form of portable 12 vdc appliance.
Emergency Services and Contractors, emergency lighting and 12 vdc power tools.